Dental Implants in Belmont, MA
---
Dental implants are the best solution for missing teeth because they're the only option available that replaces both the visible portion of a tooth and the root below the gumline. We offer several different types of dental implant restorations, including:
---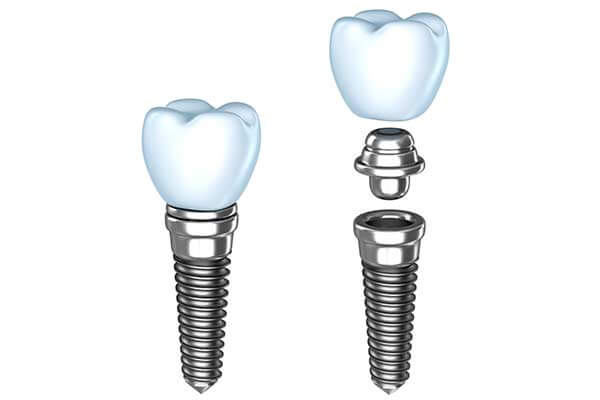 ---
Single Tooth Dental Implants
---
A single tooth dental implant restoration has three parts: the dental implant itself (a small biocompatible metal anchor that is placed in the jawbone), an abutment that attaches to the implant, and a dental crown. Because the dental implant is fused to the bone in a process called osseointegration, the result is a stable, permanent replacement for a missing tooth.
---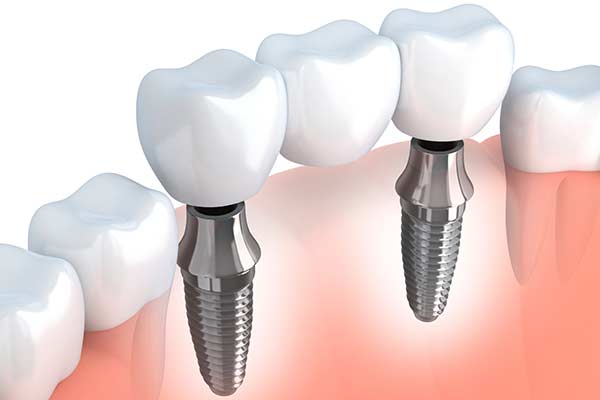 ---
Implant-Supported Bridges
---
When three or more adjacent teeth are missing, we can replace them all with a single restorative solution called an implant-supported bridge. Two dental implants replace the outermost missing teeth and act as anchors for a porcelain bridge. Implant-supported bridges restore function and appearance without compromising healthy teeth like a traditional bridge.
---
What are the advantages of an implant supported bridge?
---
Because of the natural look and feel of the porcelain and the functional stability provided by the implants, implant supported bridges are an effective solution to replace multiple missing teeth.
A traditional bridge uses teeth on either side of the gap where teeth are missing for support. An implant supported bridge uses two or more dental implants rather than the adjacent teeth. When a bridge uses natural teeth for attachment, the natural teeth must be prepped for crowns and are then subject to increased stress which may be damaging - particularly if the existing tooth, roots, or surrounding bone structure are already compromised. A dental implant supported bridge replaced your missing teeth and avoids putting any additional stress on your natural teeth.
---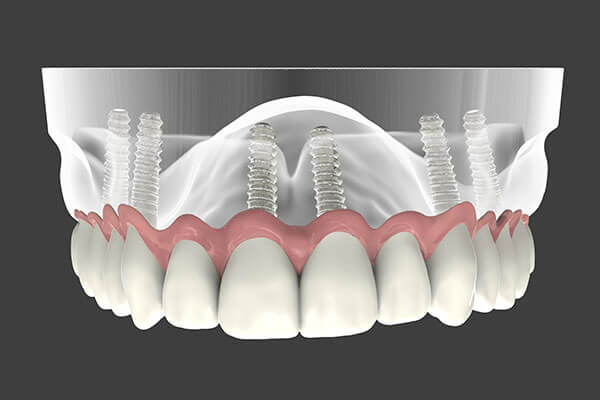 ---
Implant-Supported Dentures
---
If you are missing many or all of your teeth, implant-supported dentures offer a more natural, functional replacement than traditional dentures. There's no messy denture adhesives involved—instead, implant-supported dentures are attached to dental implants for better stability. Partial dentures require the placement of at least two dental implants, while a full-arch denture needs a minimum of four dental implants. Implant-supported dentures can be fixed or removable (also known as snap-on dentures).
---
Why should I consider implant-supported dentures over traditional dentures?
---
This technique offers many advantages over traditional dentures.
Easy to care for, this solution can simulate the look and feel of natural teeth and stay fixed in place with the implants acting as anchors. Patients will not experience the typical rocking and movement or gum irritation associated with dentures.
Dental implant placement can also help alleviate the sunken look that can occur with bone loss in the jaw by stimulating bone growth in the area around the implant. This process can also help prevent future bone loss.
---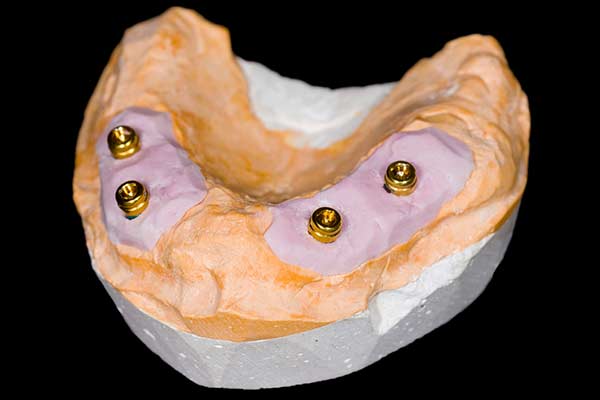 ---
Full Arch with Only Four Implants
---
This procedure is a unique implant solution that allows patients with a completely edentulous (toothless) upper or lower arch to replace all of the teeth in that arch using only four implants as anchors.
The benefits of All-on Four is a long-lasting, healthy-looking smile that you will see immediate results in just one day! You don't have your denture slipping or shifting during the day. It's easy to clean and to maintain. Also known as teeth in a day implants, you will finally eat what you want without a worry!
---
Frequently Asked Questions About Dental Implants
---
Why should I consider implant-supported dentures over traditional dentures?
Implant-supported dentures are easy to care for and have a more natural look and appearance than traditional dentures. Because they're supported by dental implants, they're more secure, so you'll never have to worry about them slipping, falling out, or causing gum irritation. Most importantly, implant-supported dentures can prevent and even reverse bone loss in the jaw, giving you a stronger bite and preventing the prematurely aged appearance caused by jawbone loss.
What are the advantages of an implant-supported bridge?
Traditional dental bridges are supported by adjacent teeth on either side of the teeth being replaced. In order to anchor the bridge, these teeth must be filed down and have crowns affixed to them. This places stress on the supporting teeth, which can lead to damage. An implant-supported bridge places no stress on adjacent teeth because it needs no external support—instead, it's held in place by dental implants.
How long do dental implants last?
Dental implants are meant to be a lifelong solution for missing teeth, although the restorations that are attached to them may need periodic replacement depending on the materials used and the amount of wear they receive.
How painful is a dental implant?
During the dental implant placement procedure, the area where we're working will be numbed, so you won't feel any pain during the surgery. Afterwards, you are likely to experience tenderness, swelling, and discomfort. Most patients describe dental implant placement as less painful than recovery from a tooth extraction.
Can dental implants be done in one day?
Most dental implant procedures cannot be done in one day, but our Full Arch with Only Four Implants restoration can be completed in a single appointment. If this procedure is a good fit for you, you'll be able to come to our office, have your implants placed, and leave with a permanent new smile.