Belmont Family Dentistry
ADDRESS
75 Trapelo Road
Belmont, MA 02478
Directions
HOURS
Monday | 7am - 6pm
(Lunch from 1pm - 2pm)
Tuesday | 7am - 5pm
(Lunch from 1pm - 2pm)
Wednesday | 7am - 4pm
Thursday | 7am - 4pm
Friday | 8am - 1pm
Saturday | Closed
Sunday | Closed

Request an Appointment
---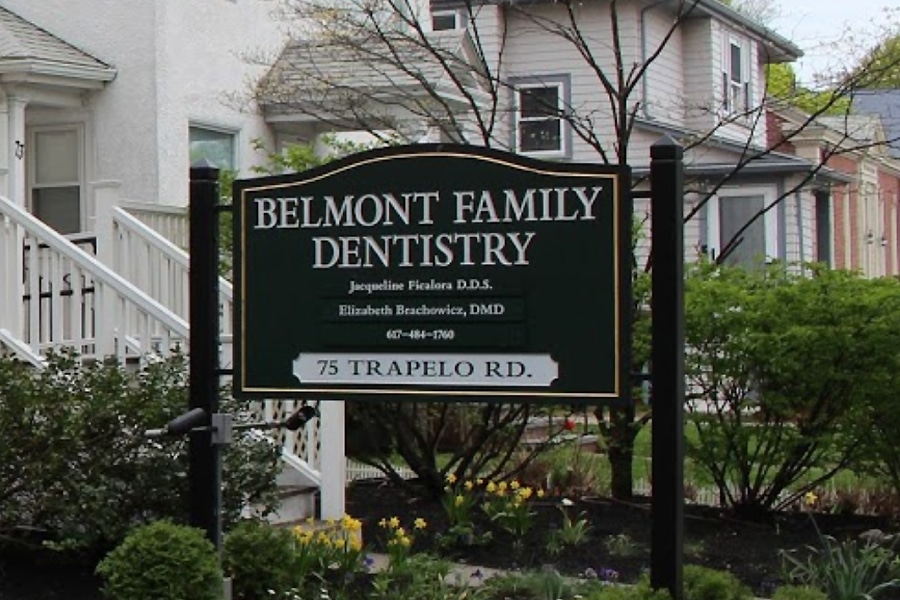 ---
Our office is conveniently located in Belmont, MA, a short drive from Cambridge, Watertown, Wellesley, Lexington, Winchester, Waltham, Waverley, East Watertown, and East Arlington. Call us today to schedule your appointment!
Frequently Asked Questions About Our Belmont, MA Dental Practice
---
How often should you visit a dentist?
---
The American Dental Association recommends dental visits every six months for comprehensive evaluations and dental cleanings. If you have gum disease or other oral health issues, more frequent appointments may be necessary.
When should my child start seeing the dentist?
---
The American Dental Association recommends that children first see the dentist around 12 months of age or within six months of the eruption of their first tooth.
What does cosmetic dentistry include?
---
Cosmetic dentistry generally includes any dental treatment that is primarily performed for aesthetic reasons and provides no functional benefit. Teeth whitening or veneers will make your smile beautiful, but these treatments have no major health benefits for your teeth. There are some procedures that have cosmetic and functional benefits, so they may be considered both cosmetic and restorative. These include dental crowns, implants, bridges, and Invisalign.
Is it safe to get Botox and fillers from a dentist?
---
Absolutely! Dentists receive advanced training in the anatomy of the face. Administering Botox and fillers goes beyond the skin—it requires an understanding of how facial muscles work and move. We have the expertise to help you achieve a naturally refreshed appearance that has you looking like yourself, only better.
Are dental implants worth the money?
---
Yes, dental implants are well-worth the cost. Our patients are thrilled with the results of their dental implant procedures. Implant-supported restorations look, feel, and function just like natural teeth and they prevent bone loss in the jaw.